Sunday Ride: 23rd February 2014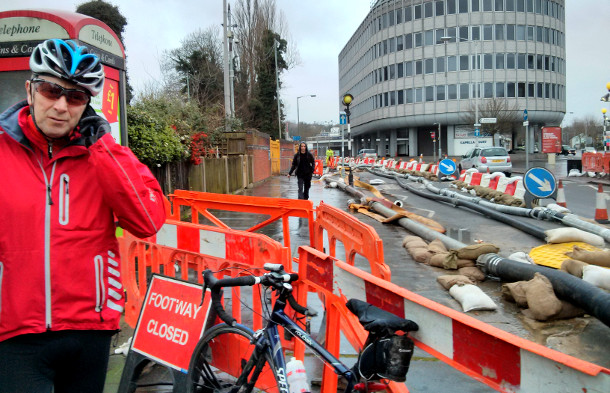 Rain forecast on Friday, dry forecast Saturday, spitting Sunday morning. Our start point was, once again, blocked by heavy duty pumping operations to keep the water table below the A23. The A22 remains closed through Kenley.
No problem as today we are heading westwards via Coulsdon to Brockett's Farm. The southerley wind over 20mph was unhelpful although it kept temperatures up to a comfortable 50F which ain't bad for February. Indeed, unlike the previous two years, we have not yet seen a single snowflake this winter. Very wet but warm.
The outward ride was uneventful and the spitting soon disappeared. The River Mole had shrunk back into into its bank. Brockett's Farm was as disorganised as ever, the refridgerated plastic cake unappetising and the cooked food expensive. We need to find some more attarctive alternatives to complement Hensfold Lakes and Annies for our forays to this part of Surrey.
The route back was up Ranmore Common. The drunkard division went down into Dorking and on to the splendid Royal Oak at Brockham. A fine pub in an even finer setting. Thence up to Betchworth and the road having re-opened on passed the deer park to Reigate Hill and the traditional A23 route via Merstham back to the start point.
About 42.33 miles and six riders.