Sunday Ride: 22nd October 2017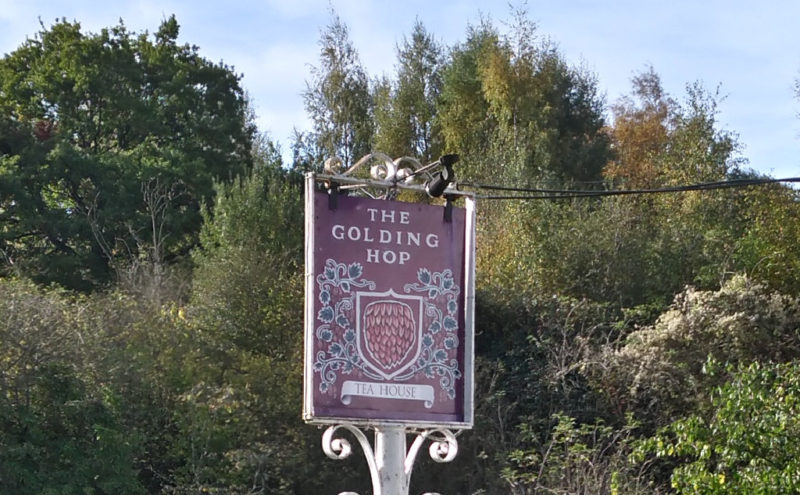 Surprisingly only six turned up for a fair day in late October. Perhaps the 'Beyond Sevenoaks' with the suggestion of hills and more hills was a discouragement. Happily it wasn't a very hilly ride – indeed flat for that part of Kent.
The destination was a new watering hole. A pub that had become a tea house near Plaxtol. The ride out was very pretty and worth repeating. Though perhaps to a different refreshment stop. This one we will remember.
First for being told not to park our bikes there (as it might discourage non-cyclists from sitting outside). Then the complication of ordering tea. Not only from a long menu of every tea leaf from the Indian subcontinent but not by the person or teapot – but by the proprietorist's particular brand of cup.
Then the tea arrived – each pot with its own timer so we wouldn't pour before a statutary five minutes had been buzzed. Still it was a pretty place, a pity that no one else arrived or was likely to despite our steeds now being hidden away in a nearby car park.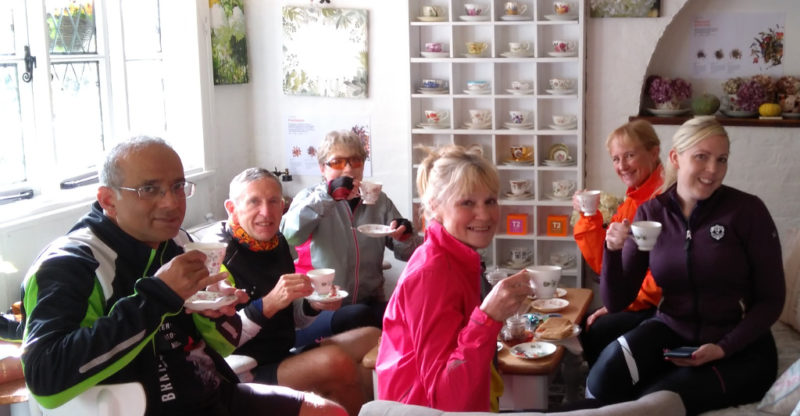 Time to leave. Forty pounds the lady said. We had asked to be billed individually but this didn't fit in with the way she did things. We tried to divi it up but it did look as though there hade been a little overcounting on top of a steep price. This was not met with great grace.
With no passing trade, with no appreciation that you need to satisfy customer need we didn't think it would be there very long especially as it is unlikely to get any return business. What a shame.
Plaxtol itself (a mile down the lane) looked delightful. We must find another excuse to revisit it.
Tom's plan was a flat ride home through Hildenborough and around Edenbridge back to Marden Park. Not sufficient for Julia and Viv who decided to scale the south side of Ide Hill. The remain four wimps took a breather at Royal Oak, Staffhurst where this rather inept selfie was taken.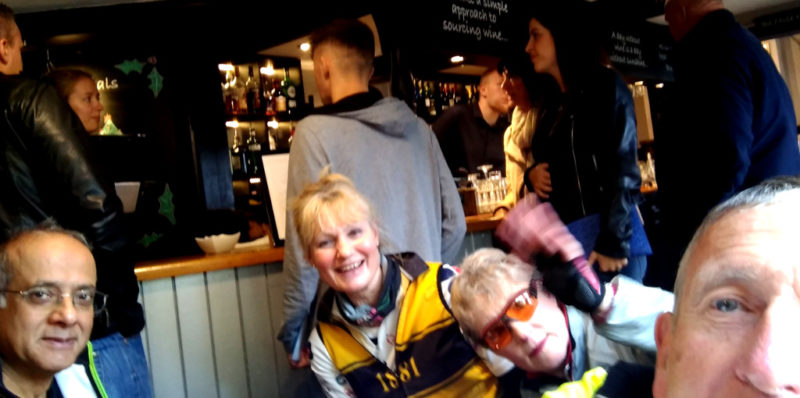 About 67 miles.