Sunday Ride: 20th September 2015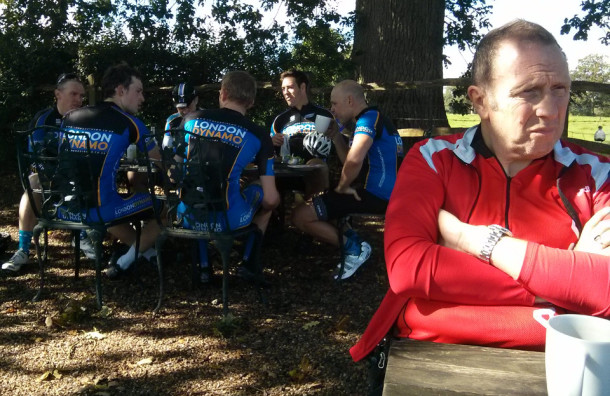 Five starters on a fine day. Jim led the charge up Portnalls hotly pursued by Mark and more coolly by the rest of us and then I had an encounter with the p.fairy. Thence down Reigate Hill and Reigate Common. We hung a right avoiding the 'Road Closed' signs down Trumpet Hill to Betchworth and Brockham. Finally past the burnt out Henfold Lakes to Tanhouse Farm at Newdigate.
Its been sometime since the Anerley last visited. Since then it appears to have been discovered by every cycling club in south east England. Club after club arrived from Kingston Junior to London Dynamo (hiding behind Jim, above). There were some people who arrived byy car but cyclists are their main trade.
Jeremy was not there to lure into a hostelry so we went straight back but this time through Leigh and the other end of the 'Road Closed' section. We sort of ignored it as nearly all the runners of the Run Reigate Half Marathon/10K had long since finished. Back through Reigate and to Merstham as usual – but because roadworks further up the A23 are making it even more lethal for cyclists we hung a right up to Chaldon and along Farthing Common. About 40 miles.