Sunday Ride: 1st November 2015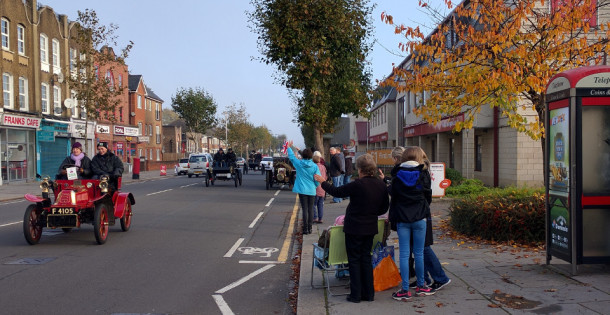 Once a year the London to Brighton Veteran Car Rally passes our starting point. This year it didn't clash with the Freewheel Competition & AGM so we decided together with many other cyclists to chase it down the A23.
High on paraffin fumes and the constant cheers along one came to realize just how much of a task it was to get to Brighton in 1904. Broken down cars littered the inside lane. They would get fixed, overtake and break down again. Some found 12 mph challenging and all felt gradients even more than my thighs. There were frequent voluntary stops for hot tea and other substances. They clearly feel the cold whilst we were comfortably warm in far less gear.
Besides the crowd of people were gathering of specialist cars in lay-bys and car parks, Messerschmitt bubble cars, military vehicles and at least one Ghostbuster. We flew past Gatwick in pursuit of a steam powered speedster and re-gathered at the Rally's official Crawley Stop.
We met up with some folks from the Friday's (FNRttC). Here are some photos one of them tool of the cars around us and their purloining of the Anerley's traditional feeding station on Brighton Beach: http://www.cyclechat.net/threads/london-brighton-veteran-car-run-sunday-1-november-2015.189081/page-8#post-3985032.
The Anerley voted instead to ride hoe after sampling Julia & Tom's recommendation of nearby Charlie's Deli.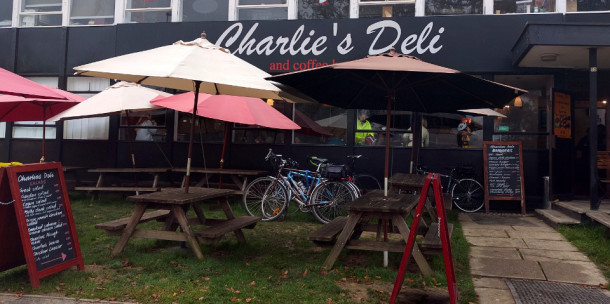 Very good and inexpensive – an addition tour Cafe portfolio?
Back via Horne and the Fox at Tilburstow Hill where all but me posed before Julia & Tom left us. We commiserated with a very nice new Godstone brewed beer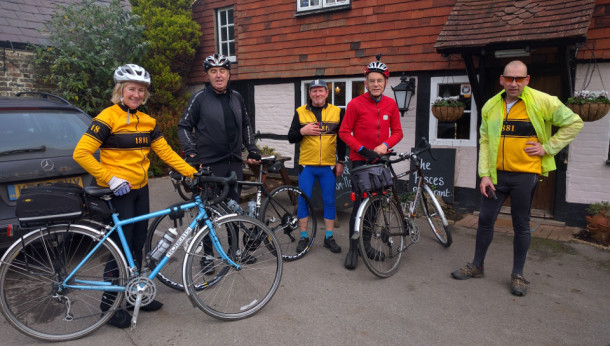 Mixing with Motors wasn't finished for the day. This Jeep would have made the journey home faster if not quite as comfortable. I forgot to start my GPS and my bike computer went on the blinks I haven't a clue how far it was. But a good day despite the mist that lay between the North and South Downs reserving the bright sunshine for Croydon & Brighton.