Sunday Ride: 19th January 2014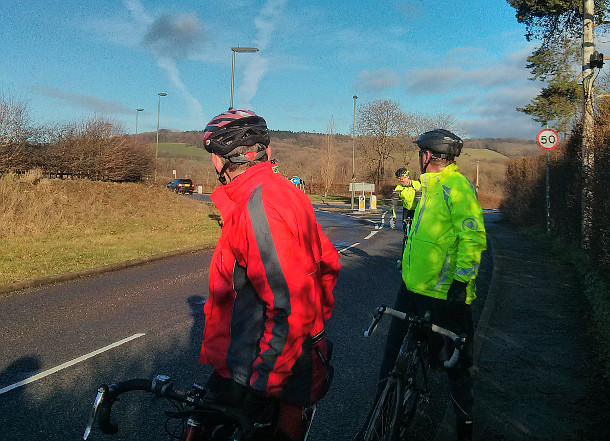 Set to be the wettest January since the Anerley was founded. But for once the clouds parted t reveal one of those sunny days. and not too cold either!
We galloped up Marden Park and out past the Godstone on the A25. Ewa picked up yet another fairy visit her tyres worn enough to merit a special mention in the Club history. Here we are waiting, waiting … eventually we decide to press on to Edenbridge Golf Club leaving Jim and Ewa to catch up in their own time.
Golf or water polo? The course had sprouted some extra water hazards since our last visit. But then was it cycling or mountain climbing and our leader led us up the wrong side of Toys Hill. It was desperate stuff. Some got off and walked – and they were going faster than me on the granny ring.
The reward was that long thrilling descent into Brasted – followed by a river of water threatening to swamp the village. Bob dropped his chain a couple of times but it could have been worse. The drunkards retired to the Stanhope Arms whilst the temperance division hurtled homeward.
Later we followed giving young Peter K his first taste of botley Hill. All in all a splendid ride.