Sunday Ride: 18th January 2015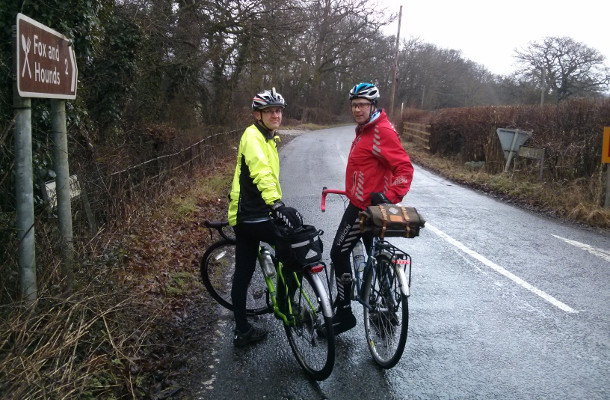 Only four of us braved the light rain and cool start of the day. We took the Marden Park exit over the North Downs for the relatively short ride to Edenbridge Golf Club. No cake, but we survived for the return via the infamous Toy's Hill. Frank conveniently dropped off the back to take an alternative route. Jim & Kevin roared up the hill. I followed more sedately but still got into trouble. I had a chest infection and i just could not get enough oxygen. I eventually got to the top but on stopping my thighs locked. I couldn't do anything. Kevin kindly put me in a safe position and eventually everything got back to normal.
We then adjourned to the nearby Fox & Hounds rather than press on to Braested. There we were re-united with Frank.
Then down through Braested and along the Pilgrim's Way and up Clark's Lane to Botley. Thankfully this was slow but not a patch on Toys Hill so successfully conquered. Its amazing what a couple of pints of IPA can achieve!
I felt good enough for a cracking finale down to Warlingham and give the fired up Kevin a decent chase. But, not my day, a slow on the front meant I was shepherded by Frank back to the new North Down Cycles where the departing owner was grabbed (below). I pottered on with a bit of pump action to Riddlestown and the train. Then the sky cleared and out came the sun. It would have been about 40 miles telephone box to telephone box.