Saturday Ride: 22nd September 2018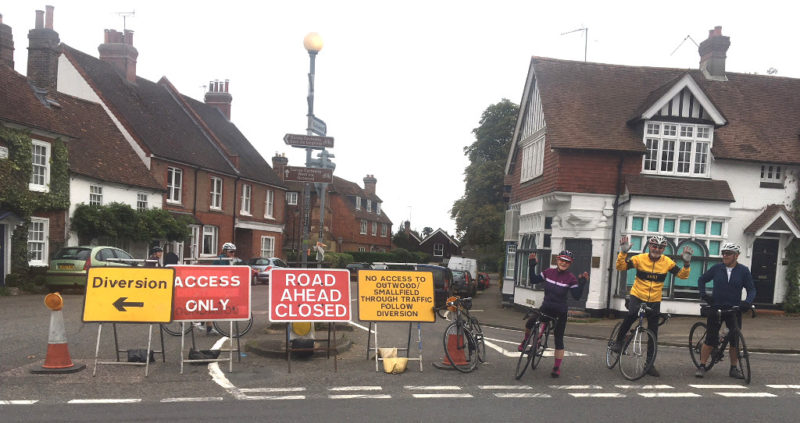 Two of us at the start, Karen and Pete, to be met by Miles and Graham slightly later up Farthing Down. We thought there might have been more of us with the Sunday ride cancelled and our route planned to get back before the rain set in so this was the best ride opportunity of the weekend.
It was really quite pleasant to start of with as we headed up Farthing Down. Miles met us at the car park and Graham by Chaldon Church. There was some sunshine and scattered cloud on route to Bletchingly and then across the main road to the downhill freewheel course. We ignored the road closed signs as they were obviously not meant for cyclists. Further along the road we passed several more closure warnings and even a group of cyclists heading our way who shouted "it's proper closed", but we carried on in true Anerley style.
Eventually arriving at the barriers we spotted a gap and sent Karen (wot with her being the smallest) through to scout out a route. She eventually returned to confirm that it was indeed "proper closed". So it was a full 180 and back up the hill to Bletchingly. At this point the weather looked like it was on the turn so the team made a unanimous decision to head to tea at Flower Farm and then cut the ride short back through Marden Park.
We almost beat the rain, just about the last 5 miles in it, and nothing too heavy.
30 miles at 12 mph