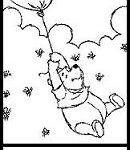 No I am not referring to Alcoholics Anonymous, you don't have to give up your pint at the lunch stop on our Sunday bike rides. I am just reminding you of the Anerley Audax ride on Saturday 8 Oct!
I note that although I advised the date of Sat 8 Oct in my original e-mail, the date did not appear in the previous "News" posting on this web site.
I am also sure that you do not need reminding that we have to alter our clocks when British Winter Time starts on 30 Oct. So this might be your last chance to get a good bike ride in before the dark nights set in!
For details of the ride, and down loadable entry forms, click on the original web site posting at http://anerleybc.org/club-audax/
Ricky has raised a point which may have caused confusion with others. The down loadable Audax entry form has a pre-printed ride date of 31 Oct 2009, whereas we intend to ride it on 8 Oct 2010. Don't worry about the date. This particular ride is a "permanent" event which means that it can be ridden on any day of our choice. So if for example it is pouring with rain on 8 Oct, we can ride it on another day of our choosing.
Note the "comments" box below, this is for any queries that you might have. I will also use it to advise of further news and updates for this ride. So please do check it out!

Don't delay sign up today.