Ironman, Cork June 23, 2019
John Di's event report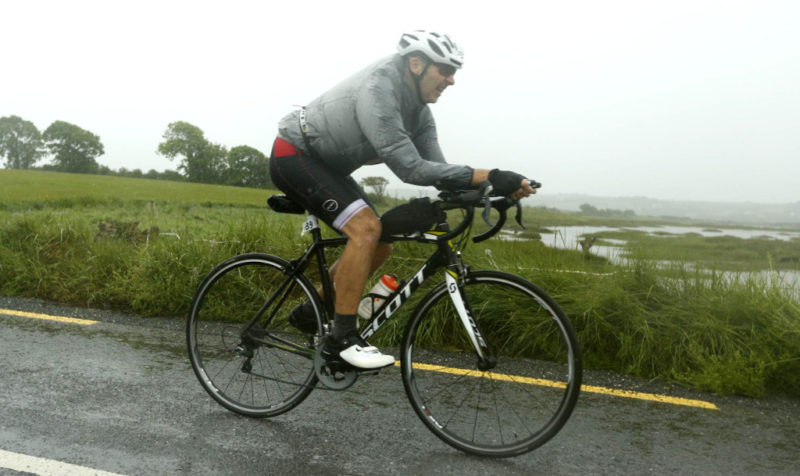 Alarm 4am, breakfast of overnight oats and a banana; check weather (forecast was a strong wind and rain all day and it was already set-in), leave B&B at 4.30 for half hour drive to athlete carpark accompanied by my trusty supporter and wife, Sue, giving moral support. . The issued direction were wrong and we had to do a U-turn and then ended up in a queue for the about 30 minutes before getting in the car park.
A ten minute walk to transition which on the original timetable closed at 6am and I got my wetsuit on keeping warm clothes on my top half. The conditions were such that the swim was in doubt and an announcement advised that the swim decision expected to be finalised at 5.30 was deferred to 6am but looking at the sea a safe swim looked very unlikely, and it was announced as cancelled soon after 6am. A new format was eventually announced as a 180km cycle time trial followed by the 42.2km run with pro athletes going off at 7.20 and age-groupers starting after them setting off from 7.40am. They called us by rack numbers to get ready for cycling and this took an age as I was in the last rack called. So from 5.30am to about 8.20am I was standing in transition in the rain and a cold wind in wetsuit and "dry clothes" which were steadily getting very wet, before changing to cycling gear; then I was in cycling gear queuing to get started and I eventually started at about 9am. Clearly it was disappointing to have the swim cancelled and as one of my fellow athletes said "it's now just a long brick (tri speak for bike/run) session". I questioned whether I would feel like an Ironman, so it was a dampener to the spirit on an already very damp day.
For the bike I wore a craft vest, cycle top, thin arm warmers, a rain jacket, cycle mitts, long distance tri shorts, merino socks – I hadn't got any rain covers for my cycle shoes. I was pretty cold waiting to start but others really looked completely under-dressed for the weather and looked freezing. On the ride the tri-bars helped an awful lot and I used them not just for speed but also because it was warmer keeping as much out of the wind and rain as possible. At 42km into the ride I noticed the distance and noted that I would have to run that distance later; it had taken me over an hour and a half to cycle that far and it was a real reminder of how much more I was hoping to do. On the first lap I felt I was doing OK on the bike; I was overtaking more than I was being overtaken, but maybe that just reflects that I started near the back. My nutrition plans weren't completely set in my mind and I think I would have benefited if they had been. With the wet it was more difficult to get at my salt tablets as they were in the cycle jersey under the rain jacket so I didn't take them at the regular intervals I had intended. At 70km Alastair Brownlee went past with a motorcycle behind him (his 160km) – he was the first pro I had seen but after the event I saw that he was third on the bike leg beaten by about quarter of an hour, so two others must have already gone past by then. Although the route was hilly the main climbs had been long drags at up to 5% but at 87km in the town of Youghal there was a 400m 20% climb of Windmill Hill (I had missed this out on my training ride as it was after a no entry sign but I had walked it on the Saturday after hearing about it at the briefing) – lots of support on the hill and I was glad to see Sue cheering me on. I had told Sue that I would be there between 11.00 and 11.30, but due to the late start I wasn't there until almost 12.30. Then onto the second lap of the bike and more of the same – I think the rain got worse and the wind possibly stronger or colder but perhaps I imagined that. I was ticking off each 10km marker counting down to the ride finish. The Irish support for the event on the roads was fantastic, especially given the weather. Windmill hill the second time I was getting great encouragement cycling up when most were walking. I had tried to keep HR below 135bpm on the bike but Strava tells me I averaged 133 bpm with a max of 168bpm; I can definitely see the peaks were on Windmill hill each lap. (I may have been better walking the hill as I did feel pretty spent at the start of the run). My bike time was 7.36.31.
Transition was busy and slow with so much wet gear and trying to dry off. I changed my entire top layers to a bamboo running vest, running T-shirt and running waterproof – I couldn't get compression socks on so I used short trainer socks which I had put in just in case; I left my trishorts on spurning the running shorts I had as an option. I added a buff in beanie hat style.
I started the run wondering whether I could possibly make it. My plan was to run easy/moderate but walking the uphills and in the feed stations. I gradually got into a rhythm of sorts still realising I had a long way to go but just focussing on the next 5km sign each time. It was a 4 times 10km route with a last 2km to the finish line, passing and seeing the finish line twice a lap and 8 times in all before taking the finishing chute. The first two laps I was mostly running but the third and fourth I had longer walks. There was great support from the locals through the high street where we got great cheers from one of the pubs in particular as we went past. I saw Sue twice a lap cheering me on and others were also giving us encouragement by name (as our names were on our numbers). My nutrition on the run wasn't great – I had some malt loaf but found it difficult to digest, so I mostly relied on the provided bananas, gels, red bull, electrolyte/energy drinks, and water, but I was also taking salt tablets to avoid cramps – I'm not sure whether the tablets or the structured training plan worked, but I didn't get any cramp! On the third lap it stopped raining for a bit and I took off my rain jacket for a while and carried it; as I went past Sue she offered to take it off me but that would have been a disqualification offence, and anyway it started raining again so I put it back on a couple of km later.
I was determined to run through the finish line and when I picked up my fourth lap bracelet I wanted the run to be at least under 5hr 30minutes, so I did a bit more running in the last 2km. It was such a relief to finally take the finish chute and hear Mike Reilly call out "John Diamond, You are an Ironman" and as I crossed the finish line I felt quite emotional. At the start of the run I really wasn't sure that I could complete it. All the same, I do have some thoughts that as I didn't do the swim should it count? But I did the training, I was ready for the swim, I faced down the dire conditions and completed in 13.14.34: Cycle 7.36.31; Transition 13.13; Run 5.24.50, I was awarded the accolade so I know it was worthy of Ironman, although maybe I won't get the tattoo yet. A couple of days on I am now thinking maybe I will target one in 2021 when I will be at the young end of the 60-64 age group. The oldest completer was 76 so I still have a few years left. I might be looking for a more reliable location for a second attempt at full distance.
I came 1102 out of 1407 completing. I was 48th out of 77 finishers in the 55-59 male age group – a further 33 started but didn't finish and there were another 16 who didn't start, so I'll count the result as being in the top half of the age group!