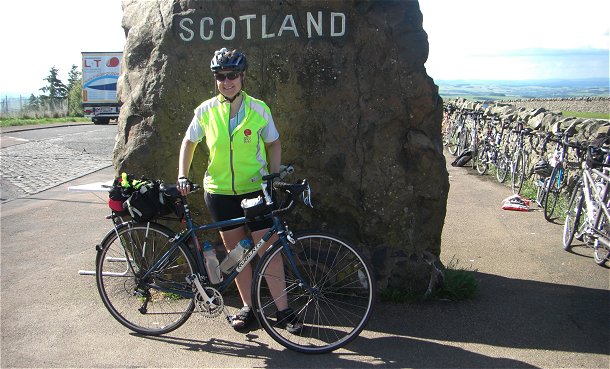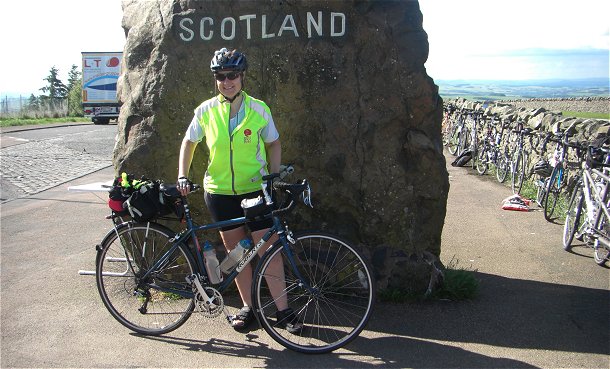 Louise, fresh from her Paris-Brest-Paris venture decided to take on the fearsome Scottish mountainous 1000km 'Mille Alba' four day Audax. If that was not enough she decided to ride the 400 odd miles from London to the start as part of the FNRttC LonJoG. That started Friday night 15th June from Hyde Park Corner and crossed a sunny Scottish border near Jedburgh on the following Tuesday where this picture was taken. Louise left that ride at Kinross for the Mille Alba (MA) start. Here is her report …
I packed on MA after the first leg at 356k. My heart just wasn't in the ride. I was feeling none of my usual enthusiasm and determination and spent much of the night before debating with myself whether to even start.
There had been heavy rain the previous day and torrential rain overnight. 33 riders took the sensible option and didn't start according to the figures. We started at 7am in the rain which had eased off considerably by then but there was lots of standing water. I got "bow waved" by a car within the first 10k with the result that I was completely drenched. The gentleman stamping cards at the first checkpoint (36K) asked how I was finding it. I replied that it was wet and I was intending to pack after the first leg. He looked shocked. There hadn't even been any "proper" hills at that point.
I enjoyed about 10 minutes of the ride, when the rain stopped, there was no headwind and the sun came out briefly. The view over the Tay at the time was magnificent .Other than that it was just plain nasty. There were numerous small hills with water running down them in a torrent across the whole width of the road. It was real fun trying to ride up those, stay upright and also miss the potholes and debris. The bottoms of the dips between 2 small hills were often like mini lakes which had to be ridden through. There seemed little point in continuing a ride I was enduring rather than enjoying at such an early stage.
There was a headwind for most of the first 100k. It wasn't particularly bad but it meant that my speed was quite slow on the flat bits where normally I'd be making up time. The first control at 100k was a hall and we were very well looked after with tea, jacket potato and rice pud. I changed my clothes here as I was able to actually wring rain water out of the jersey I was wearing. Unfortunately I had no spare shorts with me and the clothes I changed into were the extra layers I was carrying for the night. I just had to hope it wasn't going to be cold! Amazingly there were still riders behind me, most likely due to navigational difficulties as the directions after crossing the Tay Bridge were very unclear. Thank God for Garmins. I had ridden some of the first section with a chap called John. He went on ahead whilst I took my time at the control. There was no need for me to rush as I was only intending to do the first leg, so I was now riding on my own.
The first "proper" hill at 140k Cairn o Mount was horrible. It started with a 16% marked ramp which I couldn't quite get to the top of. This was followed by various 14% and 12 % marked sections linked by "gentler" graded bits in between. They were so gentle that anyone watching from below would have thought I was riding fixed as I zig- zagged across the road in bottom gear to try to maintain momentum. I even got off on a flatter bit thinking I must have a flat tyre as the bike had just been going nowhere. You only realised what an uphill you were on when you looked behind you. Because of the unaccustomed length of the climb you got used to the upward angle and the dense mist meant there was no surrounding landscape visible with which to align your senses. It was all a bit surreal. It was damp and very, very misty and I was extremely concerned that any vehicle wouldn't see me despite lights and a hi-vis. There were occasional cars and I was a lone rider. The only bits of the cars you could see were the headlights. The "top" eventually arrived and I started what I thought was the descent. It was, but there was another 12% marked lump part way down. I had a complete sense of humour failure at that point and pulled out my phone to look for the nearest train station- no signal. Wonderful!
I had no choice but to ride on to the next control town where I met up with John once again. He waited whilst I had a sandwich and drank a pint of milk. He had done PBP too and we both agreed that had been an absolute doddle compared to this. We rode the rest of the first leg together. I grovelled my way up the next" proper "climb of Glenshee which was (relatively speaking) an easy one to the ski station at the top. The descent was far worse than the climb- bloody terrifying with some steep bits with a sheer drop on one side in parts (I hate heights) and pot holes. I think I killed my brake blocks on that one. Had it been raining I would have walked down a lot of it. Had I been an hour later I would have been going down that in the dark! A very unpleasant thought and I knew there were riders still behind me. This got me to thinking that the route and hence timing of the big hills would have been designed for the "average" rider. I am massively below the average ability level on this sort of ride. Maybe the next control town had a train station? This silliness could actually get dangerous!
Once it got dusky you had to wear glasses, even in the rain, and keep your mouth shut due to the insects. I lost count of the times I had to blow my nose to clear the bugs out and pick those that had managed to circumvent the glasses out of my eyes. I also inhaled several- cue coughing fit- and even ate a large quantity despite my best efforts at avoiding them. This wasn't a problem in the towns, just in the deserted areas.
John and I rode on. He was fully intending to finish the ride and we were only slightly behind his schedule at the final control town for the leg, where we found a garage open to provide sustenance and a receipt. The wind had unfortunately turned again and we rode back to base (the ride was a series of loops) into a headwind which was rapidly gathering strength and yet more rain. We got back at about 5am with about 4 hours in hand after 356K. I was absolutely shattered but agreed to have a couple of hours sleep and if John still wanted to continue I said I would keep him company. I felt much better after a nap, my legs amazingly still worked, so I got into clean kit.
John was in normal clothes. He had sensibly checked the weather forecast -20mph headwind with 30mph gusts and rain, the accuracy of which was confirmed by looking out the window. An unpleasant prospect indeed. I handed in my brevet card. Had it just been a 600K ride I would undoubtedly have gritted my teeth and got on with it solo having already done 356K, but there was further than 600K still to go. Even had I been full of enthusiasm for the challenge (which I sooo wasn't) I'm just not a strong enough rider for that level of headwind, on my own, over a long distance. Add into that some VERY large nasty and exposed hills with probable wet descents which could well have had to have been done in the dark. Just Cairn O' Mount and Glenshee had taken a lot out of my legs and I knew I was way out of my depth.This combined with exhaustion (2 hours sleep over what would probably be the best part of 48 hours by the time I returned to base again) would have been a recipe for an accident. The isolation of the hilly areas and lack of phone signal wouldn't have boded well for being found, assuming I actually survived the "off". A fall on the descent of Glenshee could easily have proved fatal if you went over the edge, no matter how slow and careful you were trying to be. A missed pothole would have been enough given the steepness in places. There was nothing to indicate the "proper" hills still to come would be different. There was no way I was going back out on my own once the chap I had ridden the last 3 stages with packed. Had he wanted to continue I would have reluctantly ridden on with him.
I'm glad I decided to give the ride a go but I hated practically every minute of it, so I felt no disappointment at packing. The support at the manned controls was magnificent but unfortunately the poor weather made what could still have been an enjoyable part of a ride into an unpleasant slog-fest. With better weather conditions and guaranteed company (for safety) it could have been an enjoyable challenge, but it was not to be.
Ride preparation