A Charity Pilgrimage to North West Spain.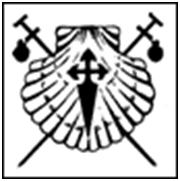 This year Tom Vaz and I have decided to don sack cloth and ashes to make a pilgrimage to Santiago de Compostela in north western Spain.  The purpose, like our previous adventure to the Picos mountains, is to raise funds for the South East Cancer Help Centre.  This time we are being joined by Tom's eldest son, Christopher.  Chris is currently a medical student and has offered to put aside his stethoscope for this three week ride and act as our medic and First Aider, should the need arise.  His first words of advice were "Spain?  Don't forget the Immodium!"
Living so close to the Pilgrims Way, we should all be familiar with Chaucer's Canterbury Tales, but the pilgrimage to Santiago is much longer and more arduous.  It was being walked by British pilgrims for at least 200 years before St Thomas Beckett was slain in Canterbury's famous cathedral.  In earlier times, a pilgrim had to walk or ride a horse or donkey.  As we do not wish to make asses of ourselves, we have decided to cycle there and back, a bike ride of some 1,500 kilometers.  So Louise, keep your Anerley shield well polished because we hope to snatch it away from you with the longest Anerley ride of 2012!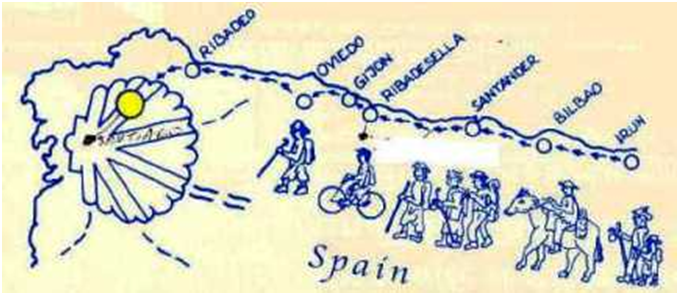 Brittany Ferries have kindly offered to transport us from Portsmouth to Santander and ferry us back to Portsmouth.  From Santander our journey will take us along a former Roman road which follows the coast for several days and many miles, to Ribadeo.  Leaving the coast it is then necessary to cross over the Cantabrian mountain chain to get to Santiago, and of course, again on the way back but by a different route.  These crossings of the mountains will be the most challenging parts of our journey, as can be seen from the advice given, which follows:
Terrain.  You should really have had some experience of cycling in mountainous terrain before going this way. It is a hard route over the mountains and through a sparsely populated area, with a great deal of climbing and descending, following narrow mountain roads.  However there are some fantastic views if the weather is kind.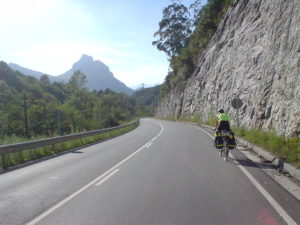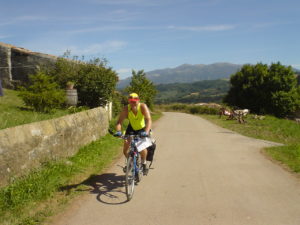 On a previous Anerley Pilgrimage in 2005.  Ewa, heavily loaded with luggage, leaving the coast and heading into the Cantabrian mountains en route to Santiago Compostela, and Des enjoying the views on the climb up. 
Weather.  The weather can be harsh, even in summer, damp and cold.  As in all mountainous regions it can change very quickly. You can have many superb days of sunshine with magnificent views.  You can also be shrouded in damp mist for the whole day and become wet through and very miserable.
Accommodation.  There are some Albergues de Peregrinos (very basic hostels for pilgrims)  In addition to the Albergues there are some hostals and pensiones. It must be remembered that the towns and villages are quite small so you should plan ahead.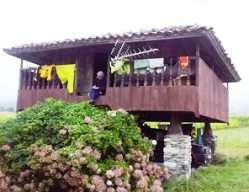 The rain in Spain!
A Spanish horreo, or barn, provides some very welcome overnight accommodation to Anerley's very wet pilgrims in 2005. After an afternoon cycling in torrential rain, our clothes begin to dry out in the evening sun.
Spanish.  Even in the coastal towns you will find few who speak English.  There is no doubt that a reasonable grasp of the language essentials will enhance your experience.
So with this advice to the S.E.C.H.C pilgrims we must start to brush up on our mediocre Spanish, and kick start our fitness training for the many mountain miles ahead.  We hope that our efforts in undertaking this very challenging charity bike ride will be well rewarded with many donations for the South East Cancer Help Centre.
And to keep you up to date with our planning and preparation over the weeks ahead, and a daily report of our travels when we do set off for Santiago, log on to http://the-picos-ride-for-cancer.blogspot.com/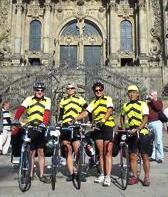 The Anerley four arrive at Santiago de Compostela, 2005
Des, Ewa, Irena, and Yoshi.
Then we flew back fromSantiago.
 This year we double the journey by cycling back.
Des.