This was Duncan's idea!….
A special thank you for your kind generosity giving to the Pelican charity and for your good wishes of support – it gave us the strength to get through some of the hard days….and we were truly humbled by the hills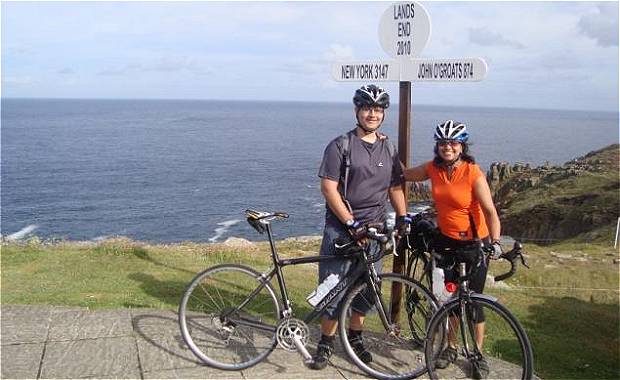 The obligatory photo at the Land's End start
11th July 2010 – Day 1: Lands End to Camelford
We got through day 1 8000+ft of climbing and 88 miles! That was just under 8 hours of riding but all in one piece. Duncan made it too which I was amazed at (with only 150 miles of training in his legs). It was tough especially at the end. We'll be setting off tomorrow from just outside Camelford and heading to South Moulton 4,600ft of climbing in 53 miles so a short but steep day!
12th July 2010 – Day 2 : Camelford to South Molton
Was "lumpy" as they say, you learn to count the rivers that you're going to cross because with each river there's a steep down and a steep up on the other side, can get a bit tiring so the day was kept short at 55 miles. One was a 20% hill down then 20% straight up the other side. I shot down it at 40mph and halfway up the other side which was whizzy! I could see Duncan perched at the top on the other side with cycle vertigo but eventually, (after a strange mobile call to each other from either side of the dip) he plucked up the courage to zoom down and up. Great fun!
The route to South Moulton was busy – lots of haulage spraying dusty stuff in our faces. But lots of spectacular glimpses of north Devon coast along the way. Tomorrow heading up and across Exmoor so climbing hard for first half of day then we hope it will ease off as we get in to Glastonbury. Looking forward to riding through Exmoor, should be quieter roads.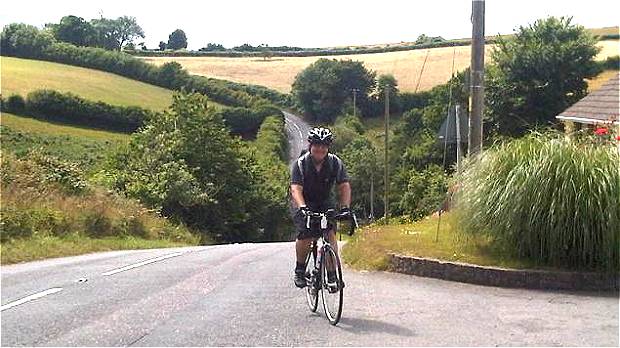 Overcoming the "vertigo" – after Gt Torrington
13th July – Day 3
It was a pleasure to say good bye to the steep hills of Devon and Somerset before entering the flat plains down to Glastonbury. The first part of the day started with a 1400ft relentless climb on to Exmoor but the landscape was dramatic -true wilderness. Nice to see the nonchalant ponies no doubt laughing at us as we huffed and puffed our way along the route. If Exmoor wasn't enough we had to then do similar climbs up to and through the Quantocks with more of those river valleys along the way.
Glastonbury was all that you might imagine – all those extras from a Harry Potter movie roaming about town! Full of weirdy beardy wizarding types – unique place!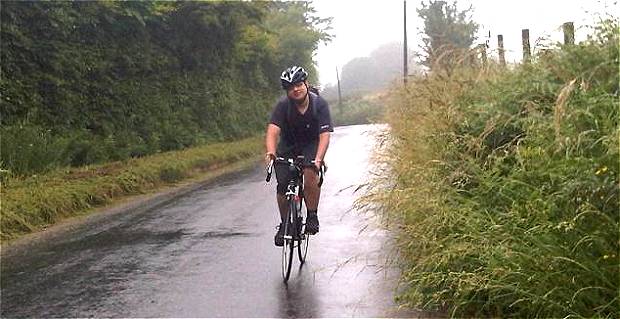 … after climbing up a 1 in 5 hill in Exmoor and there's another at Glastonbury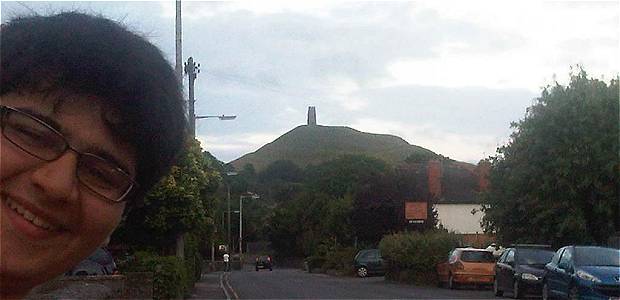 14th July – Day 4
Today was Glastonbury to Ross on wye – 83 partially damp miles going through Bristol into Monmouthshire, through Forest of Dean ending in Ross on wye. 83 miles, and satmap read 9000ft of climbing! Some of it was up Cheddar gorge – and bike is definitely the best way to really experience the vast beauty of the Gorge. It was a glorious winding ascent – very dramatic.  Followed by a knuckle whitening, finger seizing, gravelly descent down to the little villages on the other side. Then over to Bristol – and another highlight of the day crossing the Severn Bridge into Wales. Again it's a different experience by bike to see things up close – this time the engineering feat, the estuary and hearing the whine of the bridge ropes whilst being blown sideways from time to time as we crossed. The cars go too fast to appreciate all of this.
Then into lush green Monmouthshire we had a lovely trail following the river and out to Tintern abbey and its picture book setting. Finally more river side trailing to Ross – another hard but glorious day. We didn't get to our rooms til 8pm having received a complete drenching just as we arrived into Ross! The guest house owner kindly let a group of us order in a takeaway pizza as none of us had the energy to walk into town for feeding! I thought we'd over ordered, how wrong could I be? Never was pizza consumed so quickly….
PS it was also a day for getting lost – one in Bristol and another ended up in Gloucester! All adding to the exhaustion! Not to mention our lovely guides Tim and Nick who were scattered about the countryside in search of the "lost ones".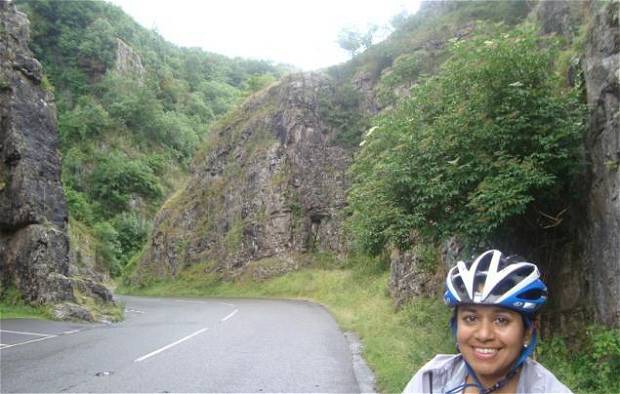 15th July – Day 5 Ross on Wye to Ironbridge
Just 62 miles today set off from Ross on Wye over the rolling hills of Herefordshire through Leominster and Ludlow before ending in Ironbridge, very picturesque riverside town – and now we're in striking distance of Manchester and northwest. Had picnic lunch at the foot of Ludlow castle – fortunately in the single hour of uninterrupted dry sunshine that day.
So – some observations by day 5 of the end to end:
Puncture repairs will be needed by now: had one puncture today
Deep heat and ibuprofen are much in demand
You start to measure the day by contours and gradients and it's much more pleasant to be riding along river valleys than crossing them.
When you check into a guest house you don't ask for a cup of tea you ask about the chances of getting a lycra wash done.
Have a list of things in your mind to say for the 10 seconds or so of conversation when passing a fellow rider or (more likely) being passed – try to vary it, all the more challenging if you're huffing and puffing up a hill at the time!
Fingerless mitts need a good wash by day 5.
You start to jettison all those "essentials" in your rear bag.
The western half of England gets a seemingly daily drenching of rain. Big climb out of Ironbridge in the morning
but then we hit the flats of Cheshire – so legs should be spinning nicely tomorrow.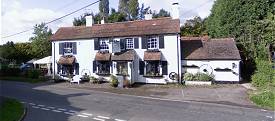 Arriving in Ironbridge –with my slow puncture!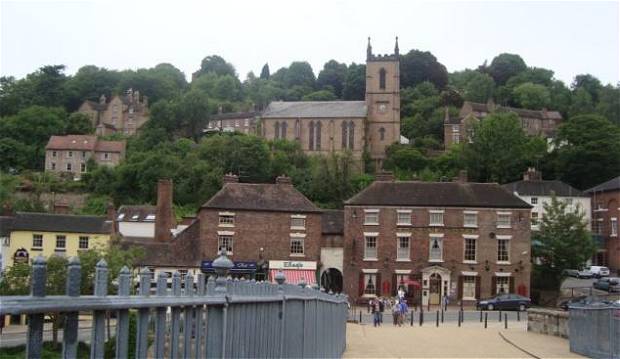 16th & 17th July – Day 6 & 7
A luxuriously flat day – legs whirring, Duncan's legs were on turbo charge and for the first time ever he got ahead of the "iron man" peleton. I fear this was to be our last flat day!
Some funny things along the way. Forgot to mention the Malthouse hotel pub in Iron bridge. Duncan and I were allocated the Penthouse – which turned out to be Elton John's replica boudoir. Featuring a coffee table and various items of furniture with Marilyn Monroe effigies, a large warholesque painting of the Queen, fake zebra fur chest of drawers, a fake Damian hurst plastic bejewelled skull and countless other tasteless or "arty" items somehow the soggy lycra cyclist look didn't quite seem to fit! Then our fortunes reversed the following evening when we were housed in the arguably dire Mercury motel nr Bolton complete with Friday night "bad" cabaret, and intermittently flowing hot water in the leaky shower. Still, Duncan and I were rescued by my brother and after a half hours drive we were rewarded with a glimpse of "normal life" at his home for dinner, back to the motel to sleep.
Breakfast in the Mercury Motel, was a surreal affair -all 16 bikes were in the dance hall by the breakfast tables, they must have displaced the cabaret act in the night? The speakers were blasting 60's pop whilst we all joined the cyclists feeding frenzy of breakfast. Large piles of empty cereal boxes heaped on the buffet table were evidence to the need to devour at least two bowlfuls and in Duncan's case three! piles of toast and of course bananas!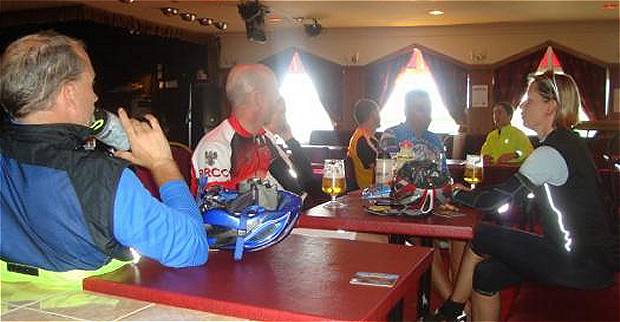 The Mercury Motel
Rivington pike took us out of drizzly Bolton with the first climb of the day and the big hills of Lancs and north Yorkshire waiting for us. For one hour at least the hills and dales were bathed in beautiful sunshine but the westerly wind brought us some foul weather as we climbed up from Slaidburn to Botton head. The crosswinds made it challenge to stay on the road and we tried not to think of the ravines and beautiful gorge that fell sharply on either side of the track. In between gusts were downpours of rain and when it could get no worse – a nice sandblasting by hail stones.
Still, despite the soggy windy weather the views and vast mountainous landscape were spectacular. We had the company of my brother today who rode alongside – or rather, way in front with his much fitter and fresher legs!
He took great comfort in knowing that he would soon be in his own comfortable bed at home whilst we continued our battle with the hills and the rain….

My brother, smiling at top of – Botton Head
18th July – Day 8
Well, there is a large black rain cloud that has been travelling north with us. We've left the northwest, and now it's dry and sunny there but not here on the borders! So on the bright side – no need to wear sunblock and no danger of peculiar tan lines worsening. The tarmac looks nice and shiny in the wet and we have little rivers running down the sides of the road – very nice. Were brought to a grinding halt by two very obstinate sheep in the middle of the road staring us down – they breed 'em tough up here!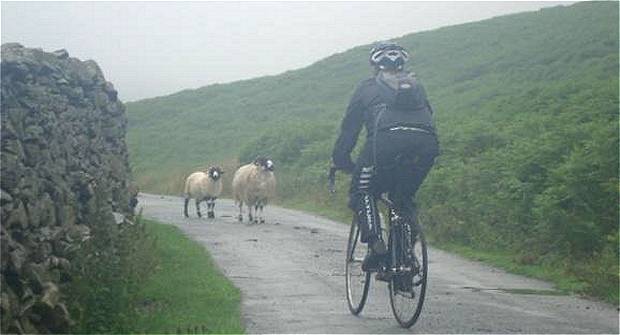 Wore out my brake pads yesterday so started out with a new set. Am still slightly disturbed at how long it takes to come to a complete stop. Fortunately haven't ended up in a hedge as one of our fellow riders today as he came careering off a cattle grid. Luckily no serious damage done to bike or rider other than a bent front rim. Forecast is more of the same for next few days so will need to keep concentrating on braking and watching for those bends and cattle grids. Still, Lake District hills and vales looked stunning despite the weather and the descent from the Howgills following the river was very picturesque.
Tomorrow we head from Brampton to Peebles in Scotland! And the promise of a lycra wash! Can't wait….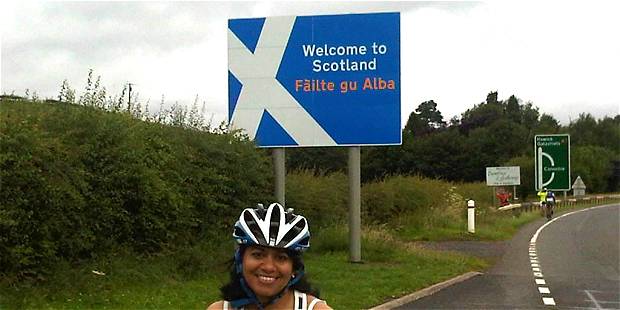 19th July 2010 – Day 9: into Scotland
The rain clouds followed us across the border into Scotland. An hour later we stopped in a small village cafe – fun listening to the local dialect -little old ladies talking about how they weren't going to be able to hang their sheets out. The ladies gave us stern warnings about the Scottish midge but today they were hiding from the rain.
Later the only place in miles was a Tibetan Buddhist monastery that served lunch. Gentle swooping hills with views of Scots pine, heather and river valleys. It would have looked wonderful on a summer's day. Despite a 11/2 hour lunch stop, we were in Glentress nr Peebles by 4.30.
Tomorrow …Edinburgh.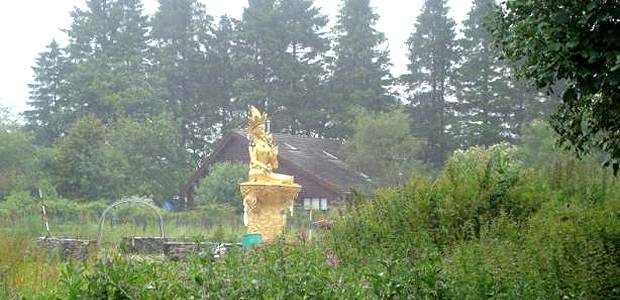 20th July – Day 10
It's a case of eat, cycle,sleep. Occasionally get to see the weather forecast but no settling down to watch the Tour. Legs are feeling stronger and you learn to pace the day. The sides of my legs are growing excrescences as the previously puny quads are now fighting for space. No doubt this all helped by the vast amounts of steak that I've been eating.
We were extremely lucky with the weather today as the corner of Scotland that we happened to be cycling through avoided a drenching. As a consequence you could appreciate the scenery in all its glory. Starting with a whiz alongside the river as we headed out of Peebles towards Edinburgh. The hill didn't really feel like a hill and the descent must have lasted at least 7 miles. So covered the thirty odd miles in under two hours.
Arriving in Edinburgh by bike is the best. First you get the panorama of the city as you do the first descent then after a meander round the outskirts the full drama of the mound, the castle and then a swoop into Princes street. It's been a while since I've seen Edinburgh bathed in warm sunshine and it looked stunning. Spent a good three hours in the city and hearing the bagpipes before taking route 1 out of town to the Forth Bridge at Queensferry, another spectacular sight.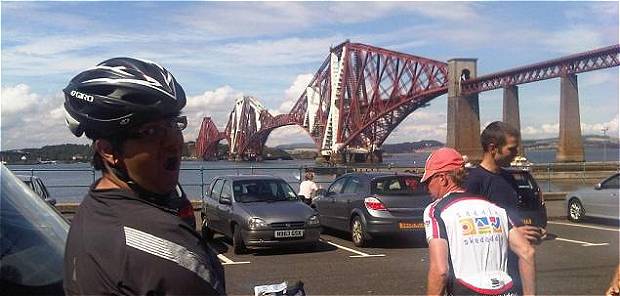 The "football" towns e.g. Cowdenbeath seem to decorate the route to Perth and eventually to the pretty and very well kept town along the river. We're staying in a guesthouse with Tartan carpets! Welcome to Scotland! Tomorrow we're heading up into the highlands and a climb to something sinister sounding called the Devils's elbow at 3000ft and with those dreaded double arrows on the map – plus the rains coming to join us – what fun!
21st July – Day 11
Nasty, nasty day. To the news of severe weather warning of flash floods and heavy rain we cycled out of Perth in the pouring rain. The scenic route off the A93 comprised rolling hills but the dips were filled with water up to 3ft – soaked thru v rapidly pedalling thru rivers. Arriving in the foothills of the cairngorms the heavy rain was replaced by a strong northerly headwind and an endless climb to 2000ft – yuk! Even the descent was slow as headwind beat us down.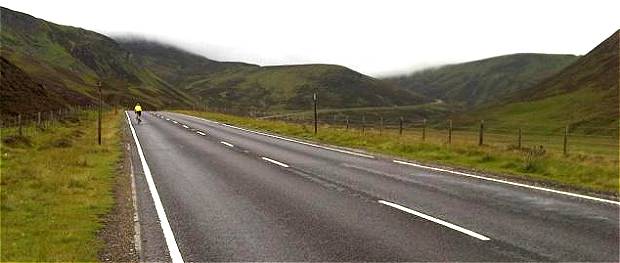 The drag up to Devil's elbow
Eventually escaped the wind as we tucked around the forests, through Balmoral and eventually into Ballater. Thank goodness for the lovely landlady at the guesthouse – dripping wet and cold we were able to resuscitate in front of a warm coal fire with a hot cup of tea.
Lesson of the day: eat more when it's going to be cold wet and windy. I'd seriously run out of energy climbing that Devils elbow and having to stuff energy bars every 5 mins to keep legs going badly hampered efficiency! Duncan was in a better state as he had wisely stopped for the option of hot chocolate and scones before the climb!
22nd July – Day 12
What a difference a day makes – and a change in the meteorological swirl. Happily, all the yucky weather has moved south. And we didn't have to listen to Susan Boyle's rendition of cry me a river at breakfast again either! The lovely lady at Ballater fed us thick scotch porridge. It was Duncan's birthday today and he celebrated it by riding up some more mountains!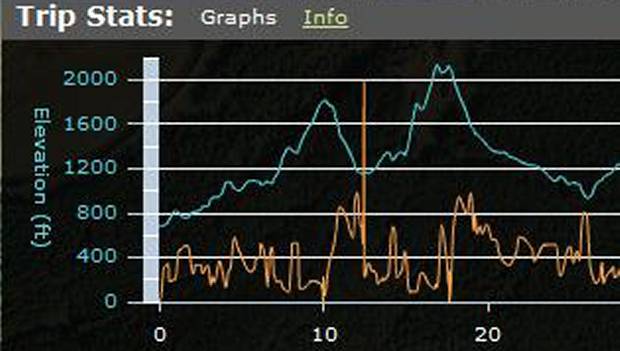 No headwind today and despite the two 2000ft summits, we cheerfully twiddled up them in our low gears and surveyed the summer ski slopes of the highlands from a cafe at the top. He had a birthday chocolate tiffin to celebrate.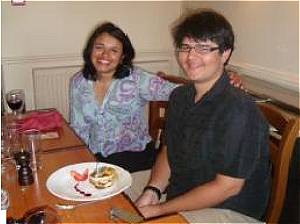 Then more swooping descents passing signs to Glenlivet and Glenfiddich – no whisky today just revolting electrolyte lemon powder in water. The mountains gave way to moors, Cawdor (provoked some hearty cackling and cauldron bubbling amongst our fellow riders – strange bunch!) and the battlefield of Culloden. Then a final descent to the Gothic town of Inverness. Great day!
Happy 17th Birthday Duncs!
.
.
23rd July – Day 13
Another day of sunshine in the highlands and the cool breeze kept the midges from rising. Leaving Inverness behind, we were heading for the proper wilderness of the northern highlands over the next 80 miles. There were dolphins diving in the waters as we rode alongside the estuary. Flying along the Cromarty Firth, I was joined by a wasp who committed an unprovoked attack on my left thigh. A detour to the chemist was needed and lunch at Bonar Bridge – this was the last proper town as the tarmac road gave way to a single track road going north.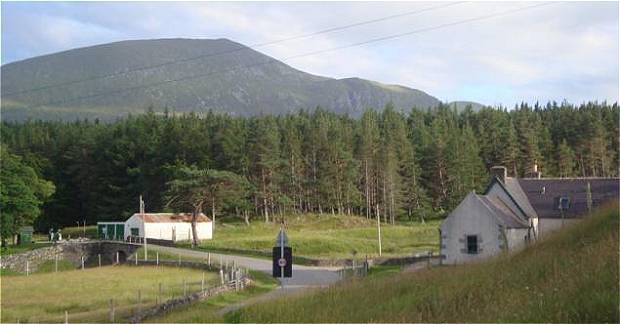 The village of Crask inn, where some of the group were staying – has a population of 2 and a dog.
We were in Altnaharra – population 33. Just the mountains and wild moors and 360 degree wide open views. In the evening – a Ceilidh at the Crask Inn with a mound of Haggis and a contented nights sleep with the diddly diddly dee music still ringing in my head.:)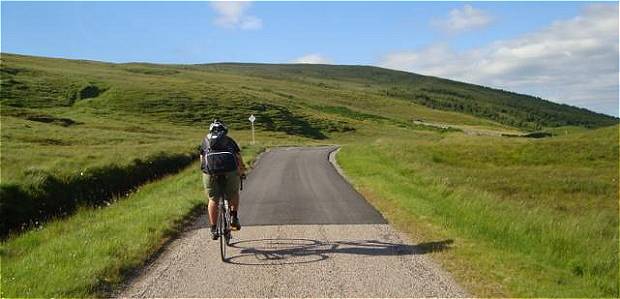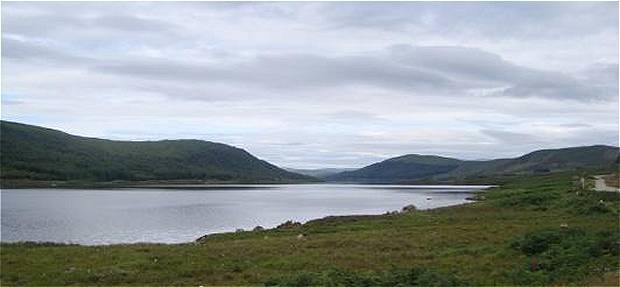 24th July – Day 14
We made it. 21000 metres of climbing, 90 hours in the saddle, 1065 miles. No more frenzied ordering of food in restaurants and the tub of chamois cream can be put away!
Not to mention that big box of snacks Duncan? (a saying adopted by for cycle group : to Duncan the biscuits ; verb: to wolf down two or three chocky biscuits at a time without pause for breath!)