Carshalton to Instanbul by Bike
Sally & Tim S, 2019
Panniers packed, we set off another cycling adventure, this time on a three month journey across Europe to Turkey. I'd been poorly for 5 weeks before we set off so the ride to Dover (over 2 days) felt really hard and, as usual, I wondered what I had let myself in for!
Somehow we managed to get the 5am ferry to France and soon found ourselves on the Belgium cycle paths. Almost immediately I felt the feeling of elation that the freedom of being self-sufficient and outdoors brings. We had a couple of nights at a friend's house in Belgium which worked well as there was a terrific thunderstorm while we were there. It was lovely and clear when we left and carried on through Luxemburg and down the River Rhine to visit another friend in Germany.
He helped us by taking our bikes into his garage and couldn't believe the weight of them so insisted on weighing them – Tim's came out at 47kg and mine 40kg – way too heavy….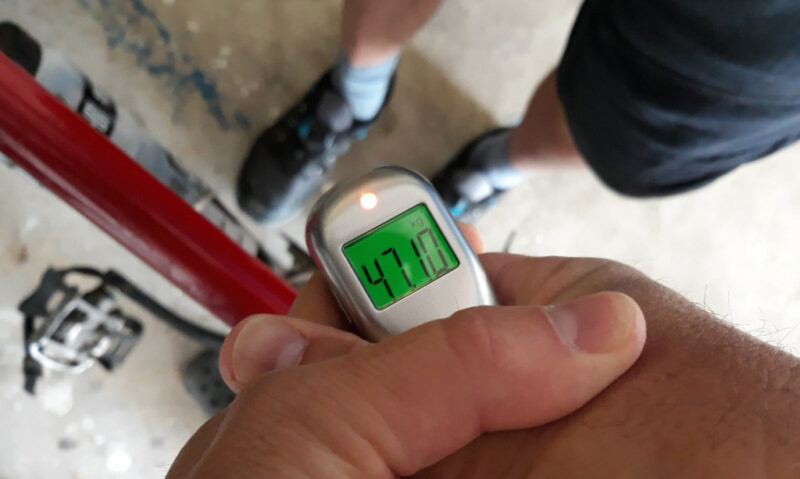 Germany is a paradise for cyclists – tarmacked tracks everywhere and once we were in the Black Forest, beautiful scenery. We continued to follow the Danube River for a couple of days before heading South through Austria and onto the Alps. Once again the roads and cycle paths were smooth tarmac and we often didn't see cars for days at a time.
Of course, Tim only had me for company and over the weeks, he did tend to find friends who didn't ask why we were going in a certain direction, when are we going to get there? Where's the next coffee stop? And why is it so hot?!!!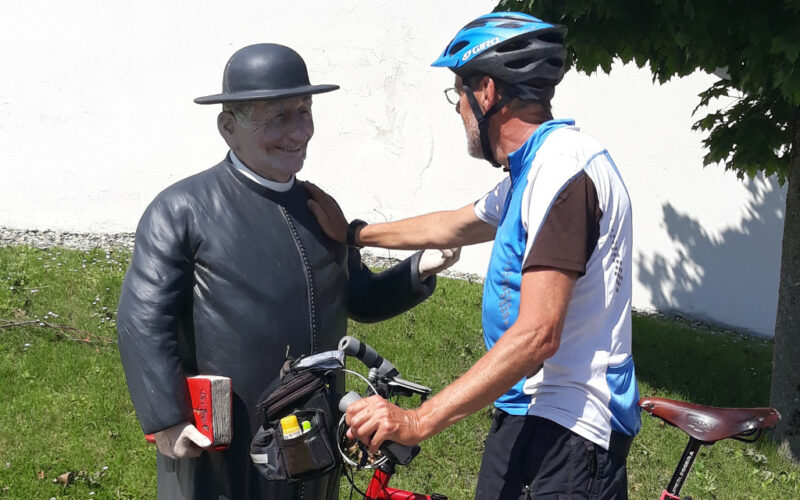 Our diet on the trip was pretty much as many pastries as we could manage for breakfast (usually after a 10 – 20 mile ride starting at 6am), tuna on bread with crisps for lunch and pasta with sauce for dinner. We also had some sweets and biscuits with us and some noodles for emergency food.
Climbing over the highest Austrian Alp Timmelsjoch Pass at 2509m was an absolute joy. The scenery was fantastic with snow lining the road for us near the top.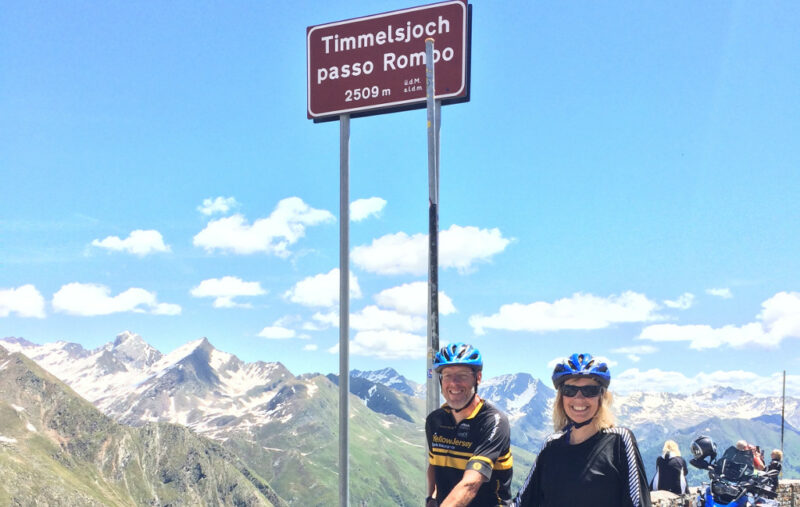 Tim and I both love mountains and these climbs are nearly always favourite part of our trips. The switchback road down into Italy was amazing and I almost felt sad that the Alps were behind us. Little did I know that the pass into Slovenia was still ahead and a killer – 18% for 900m and really tough climbing for most of the way. We had been warned by a driver that it was incredibly steep but not listened because what do drivers know??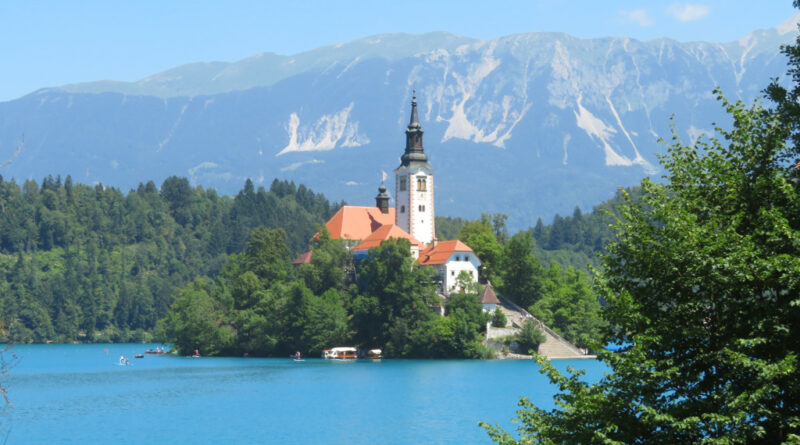 Slovenia was a really beautiful country and we enjoyed swimming in Lake Bled. The campsites were cheaper but still clean and well equipped. We cycled down the Soco Valley which is definitely worth seeing – even a thunderstorm didn't dampen our spirits as we fought against the pre-rain wind, twigs and leaves blowing in our faces.
And so into Croatia. We were greeted on the border by armed policemen who turned out to be really friendly and even offered to fill our water bottles!!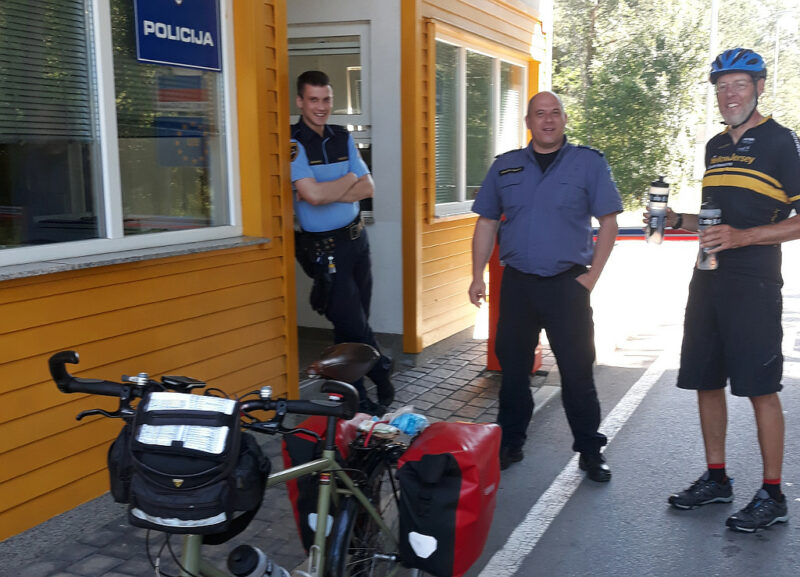 They warned us against cycling in the area we were headed as there were many refugees living in the woods. I was worried but knew Tim would continue regardless and, after talking to a cyclist coming the other way, that's what we did and I'm glad to report we encountered no problems along the way. In fact we didn't even see a refugee.
We become quite the tourist in Croatia, visiting Plitvika National Park with amazing lakes and waterfalls then a few days on, another National Park where the waterfalls were spectacular. Tim enjoyed discussing our adventures with his new friend on the bench.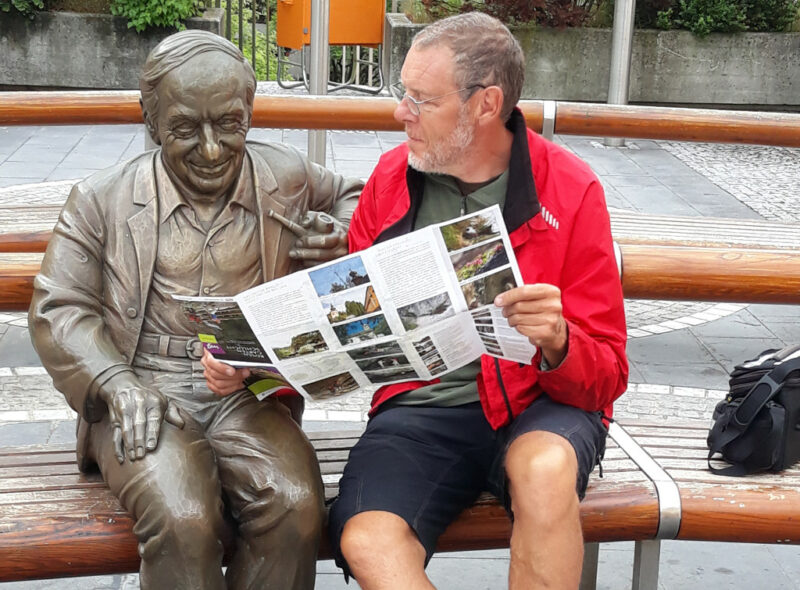 Eventually we crossed the country and arrived at Split where we took a ferry to Korcula Island. As soon as we arrived we knew we wanted to spend an extra day on Korcula. Vala Luka was such a pretty town on the sea and we enjoyed a rest (although Tim did decide it would be a good idea for us to cycle to the highest view point some 300m up just for the fun of it)!!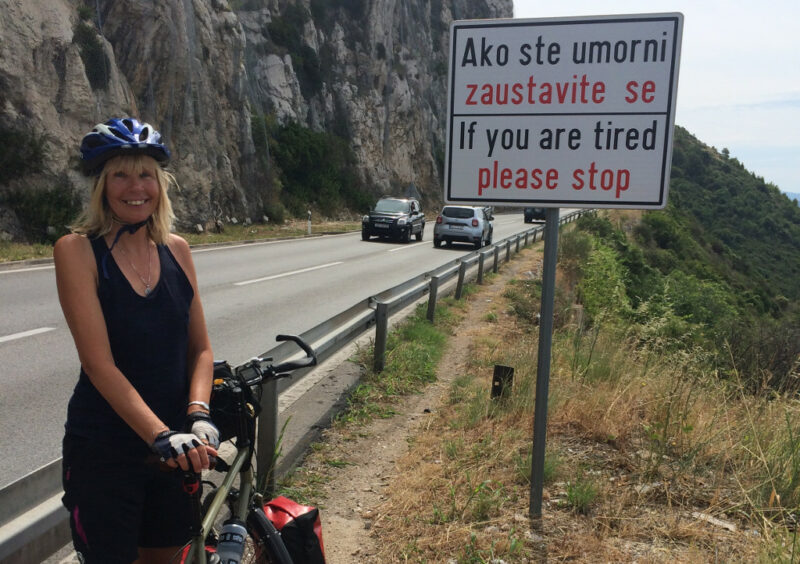 Back on the coast road we made our way into Dubrovnik where we had a very expensive breakfast in the old town. Arriving here meant we had finished the better known countries of our trip and were about to start on the lesser known ones. Firstly Montenegro which was quite busy on along the coast. We took a ferry across to a quieter road which was also very pretty and eventually arrived at Kotor – a beautiful old town at the end of a bay flanked by mountains. Here, we treated ourselves to an apartment for the night and a bed – totally luxury! We still cooked our pasta and sauce though.
Climbing the switchbacks out of Kotor, we headed for Albania. I was very nervous about this part of the trip because it involved a 100 mile circuit that had a lot of mountain passes and was mainly off road.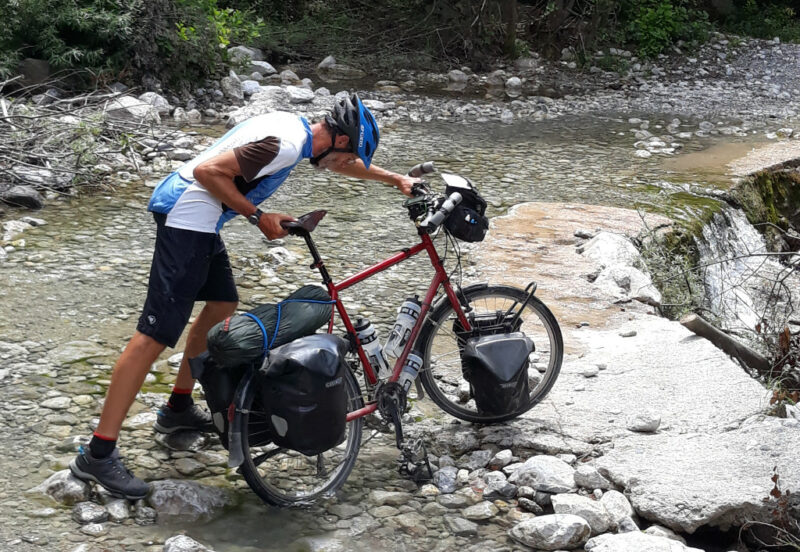 This was called the Theti Pass and involved climbing for a few days then cycling for 51 miles along a very rough track, wild camping along the way. It was one of the remotest places I've been and to see the beautiful valley where very few people are able to visit was a privilege. I probably walked as much as I cycled but we eventually made it back to civilization and I look on this experience as one of the best of the trip.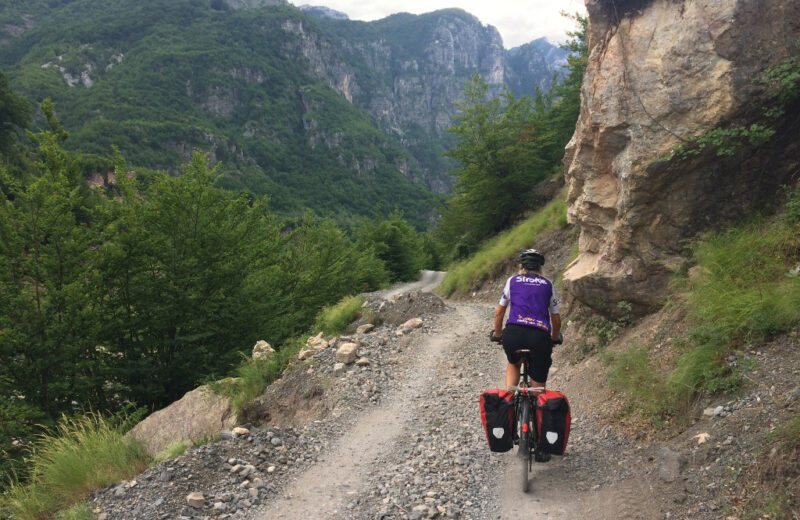 We continued through Albania to catch an inland ferry along a dramatic reservoir and then cycled one of the most fantastic roads I've ever been on. It was around 900m high and remained that high for two days following the curves of the mountains.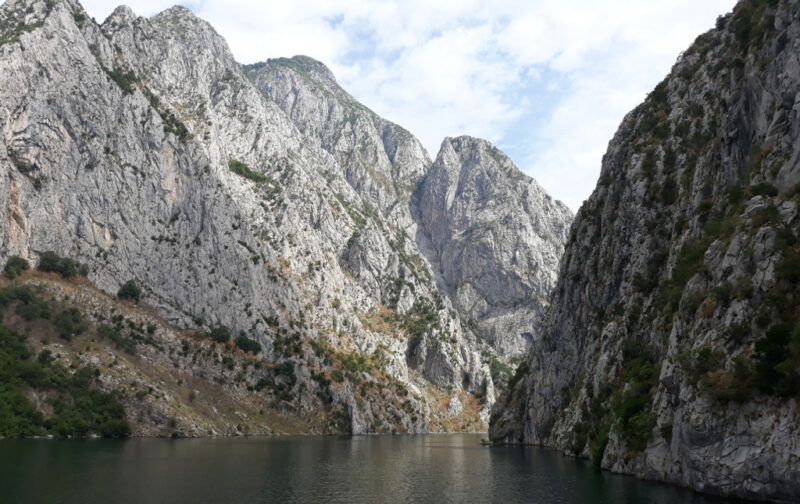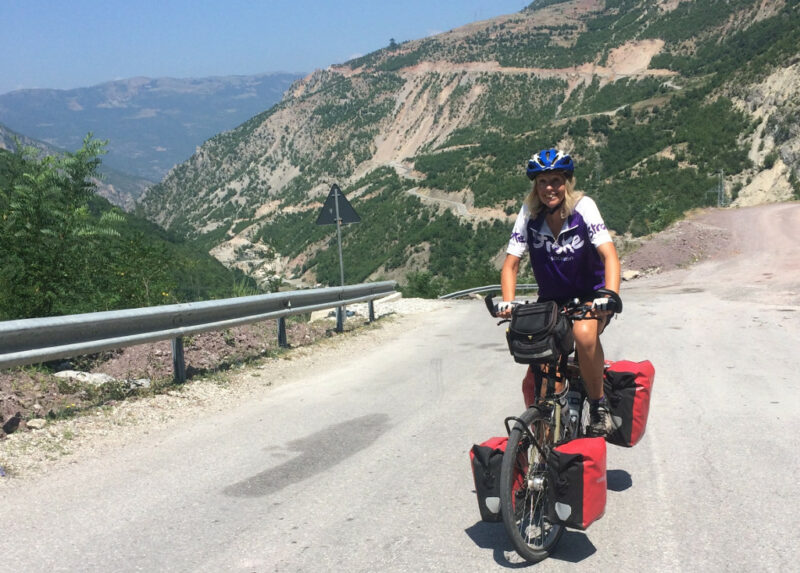 We again treated ourselves and stayed in a hotel; another good decision as another thunderstorm flashed and rumbled all night – taking all the power in the district out.
Onto Macedonia – yet another lovely country to cycle through. We were lucky as we have a friend with an apartment in Bitola who had offered it to us for the night. However before getting there we had a really tough ride through a mountain range which seemed to climb the whole day and it was extremely hot. We then cycled along Ohrid Lake – a place very popular with locals, before climbing yet another pass to reach Bitola and a well-earned rest.
Greece was hot even by Greek standards – the locals were complaining of the heatwave! We enjoyed the cycling though and it really felt like we were reaching our goal of Istanbul. We also saw a surprising number of wild tortoises – helping some in their quest to make it in one piece across busy roads.
The camping was a different matter altogether with campsites packed to the brim with caravans that looked like they'd been there forever. One such campsite showed us where we should put the tent; in a dirty dusty corner, flanked on all sides by the back of caravans. We were too tired to argue and squeezed our tent in amongst the others already there. That was by far the worst night of the trip. It was so hot and there was no escape for the heat so it became unbearable inside the tent. We moved our sleeping bags out and proceeded to get bitten by mozzies for the rest of the night. I was covered and looked like I had some major disease for the next few days. To top it all loud music was playing from the beach until around 3pm when one of the caravans next to us decided it would be nice to play their own music. We packed up and left at first light vowing never to stay anywhere so bad again.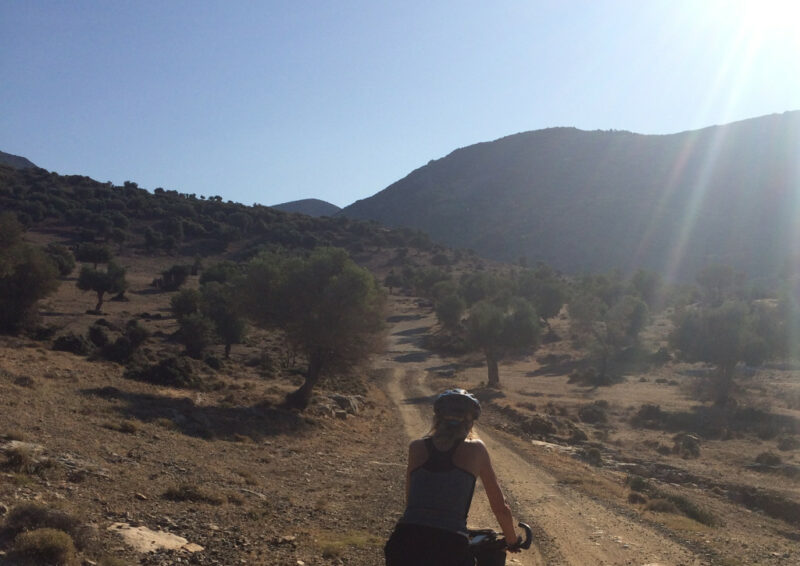 Continuing through Greece we did some more off road cycling through a lovely remote area – there was a sign as we entered warning of wild dogs and wolves but, as usual, we didn't see very much. Later in the day we reached a beach and decided to have a swim. "You haven't just been through there have you" said a local. He explained that two years ago a lady called Celia Hollingworth had literally been eaten by dogs in that area and so no tourists or locals tended to go there anymore. I Googled Celia Hollingworth and that was, indeed, her fate. She was an English Lady who lectured at Cambridge University who had rang her brother to let him know she was being attached and wouldn't live to tell the tale. A very sad story resulting in the dogs being put down and their owner prosecuted.
After a few days of cycling the coast of Greece we reached the Turkish border, our 14th and final country. As we crossed we could see our road stretched ahead of us. It was a wide, main road with a large hard shoulder for us to use. It felt safe but wasn't as pleasant as the lovely country roads we'd been used to. Here people were again so friendly and a man selling melons by the road insisted on cutting one up and giving it to us but wouldn't take anything for it. I was so hot and tired it really felt as if it was the best melon I've ever eaten!
Istanbul is a large, vibrant and very busy city. We weaved in and out of traffic and found our way into the City Centre and the Blue Mosque which signalled the end of our trip. I was so emotional riding through the busy streets, finding it hard to see through the tears. We both agreed it had been a stunningly beautiful ride and, on the whole, a very enjoyable one. We had cycled 3050 miles through 14 countries and the only mechanicals had been 3 punctures and a broken pannier. We spent a few days looking at all the sights in Istanbul before flying home to plan our next adventure.