The Oldest UK Cycling Club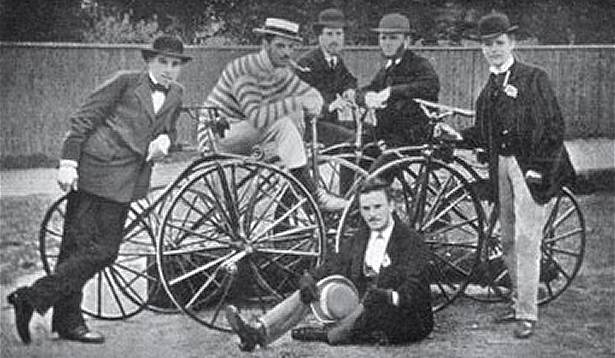 Pickwick Bicyclists on a club run in 1870
The first pedal powered bicycles were developed in France during the 1860s as the velocipede.
Within ten years bicycle clubs were being founded throughout the UK. Many existing clubs claim to be amongst the oldest in the UK including us. But who really is the oldest? Here is a list of those who claim to have started before 1881 – the year of Anerley BC's foundation.
Bath Cycling Club: 1880
Anfield Bicycle Club: 1879
CTC (Cyclists Touring Club): 1878
Except they have dropped 'Club' from their title and now morphed themselves into "the UK's National Cyclists' Organisation". So I don't think they qualify in the sense of being a continuing cycle club in our sense.
Leek Cyclists Club: 1876
Speedwell Bicycle Club: 1876
Cambridge University Cycling Club: 1874
Oxford University Cycling Club: 1873
Peterborough Cycling Club: 1873
PCC claim to be the oldest continuously active cycling club.
Pickwick Bicycle Club – Hackney Downs: 1870
No known website and (according to The Independent) nowadays it is mainly a social club with membership by invitation so probably does not qualify as an active cycle club
Please comment below if you know of any existing pre-1881 club and we will add them to the list.